How to Spend a Weekend in Hobart
Hobart, Tasmania is a great place to visit for a weekend. It has amazing historic architecture with a vibrant foodie scene.
If you can only stay in Hobart for a weekend, then this article is for you!
This weekend itinerary is for those who want to experience the highlights of Hobart in just two and a half days – of course you're welcome to stay a little longer 😉
Credit: @livuniabroad
Day 0: Friday Night in Hobart
If you arrive in Hobart on Friday night, you'll be spoiled for choice for dinner and drinks.

Here are 3 decent options to kick start your weekend out in Hobart:
Templo
Templo is a small, local restaurant that serves delicious meals for very reasonable prices.
The kitchen only uses fresh produce from nearby farms, keeping each meal simple to highlight the unique flavors of each ingredient.
If you're looking for an honest meal in Hobart at an affordable price, Templo is definitely trying.

📍 Address: 98 Patrick St, Hobart
Billy's Burgers
At Billy's Burgers, you'll find every burger combo under the sun from a classic beef to cheesy mushroom and sticky pulled pork.
Expect classic burgers with homemade toppings like melted cheddar cheese and crispy bacon that will leave your taste buds wanting more.

Pair your burger with some fries and wash it down with a local beer.

📍 Address: 1 Elizabeth St, Hobart
Credit: @ohhh_crumbs
Pancho Villa
If Mexican is your jam, then you have to try the classic Mexican restaurant Pancho Villa in North Hobart.
Get started with tortilla chips and salsa before choosing between tacos or enchiladas.
After mains are finished, enjoy a yummy dulce de leche churro and if you're in the mood to party – some tequila! There are over 50 types of Tequilas available to sample.

📍 Address: Corner of Elizabeth St & Pitt St, North Hobart
After dinner, head to bed early because we've got an early start to the weekend tomorrow!
Day 1: Saturday Morning in Hobart
Salamanca Market for Breakfast
Salamanca Market is a great place to explore Hobart on the weekend. Every Saturday morning, vendors from all over Tasmania and beyond gather in downtown to sell their goods.
There's so much variety: produce, artisanal crafts like jewelry and clothing, gifts for family members back home.
Credit: TheAussieReviewBlogger
With around 300 stalls every Saturday, this won't be the biggest market you've ever been to, but it is filled with quality goods and a great atmosphere which makes it worth exploring.
We recommend grabbing a coffee and a bite of breakfast from one of the local stalls before you start shopping.
It's best if you go early to beat the weekend crowds who flock here when the market opens at 8:30am. By 10:30am things are busy but manageable with enough elbow room for everyone until about noon – then it gets very busy!
Day 1: Saturday Lunch in Hobart
After breakfast and strolling around Salamanca Market, make your way down to the Hobart Wharf for lunch.
Here are some lunch options that best soak up the serenity of the Hobart waterfront:
Aloft
Aloft is an open-plan restaurant with bar seats overlooking chefs at work. Sit by a window to get views of Hobart's spectacular harbour while browsing their menu.
The menu focuses on seasonal herbs and vegetables, locally caught seafood, small farm free-range meat and dairy.
Whether it's sharing from tasting menus or just ordering a quick bite – there is something for everyone!

📍 Address: Pier One, Brooke St, Hobart
Frank Restaurant & Bar
Frank Restaurant is a modern Australian restaurant located at Franklin Wharf. Overlooking the harbour, travellers can soak up the tranquil waterfront while sampling tapas or the smoky flavours of an Agentinian steak.
The menu at Frank is modern with a strong Argentinian focus. Some of the dishes are quite unconventional, but that's what keeps things interesting!

While there is a strong Argentinian leaning, Frank still pays homage to its Australian roots by serving local beers and Tasmanian whisky.

📍 Address: 1 Franklin Wharf, Hobart
Credit: @raveningrara
Peacock & Jones
The restaurant is located in a cozy sandstone warehouse on Hobart's prized waterfront. It offers rustic dishes including pickled beetroot and charcuterie, to the main courses of Berkshire pork and wallaby.
You'll also see your food being prepared from start to finish at Peacock and Jones' open kitchen which makes for a fantastic dining experience.

📍 Address: 33 Hunter St, Hobart
Day 2: Saturday Afternoon in Hobart
Visit MONA
If you don't know already, MONA is an absolute must see while you're here in Hobart.
It's an art museum unlike any other – containing controversial and familiar pieces of artwork. A lot of the works are designed so they can be interacted with by visitors, which makes visiting MONA relaxed enough even for those who do not typically appreciate traditional fine art.
Credit: Aeonian Nomads
The museum has a lot to offer with beautiful, confronting and strange exhibits.

Bear in mind it's quite pricey with entry being $28 AUD, but is totally worth it for the fascinating experience you get from visiting this museum unlike any other!
Day 1: Saturday Dinner in Hobart
After a big afternoon exploring MONA, you're in need of some food and drinks STAT!
Any one of these 3 options will satisfy your cravings:
Lucinda Wine Bar
Lucinda Wine Bar is an elegant place to enjoy fine wines paired with flavorful dishes. The local produce of Tasmania is the clear focus at this casual bistro, while beautiful surroundings remind you that the local growers are not far away.

Inspired by classic European traditions, Lucinda Wine Bar has brought humble but vibrant recipes home to Hobart, these flavors shine when matched with the carefully curated wine list.
The wine list includes selections from around the world, carefully curated for delight and inspiration by local growers who bring humble yet vibrant flavors home to Tasmania.

📍 Address: 123 Collins St, Hobart
Aura Hobart
Aura is Hobart's first rooftop venue, sitting on the top floor of the Crowne Plaza Hotel. on Liverpool Street is Hobart's first rooftop venue.
Aura blends sublime views from Mount Wellington with exquisite food inspired by Australia's Great Southern Region.

📍 Address: Level 12/110 Liverpool St, Hobart
Credit: @thatrussianchefdude
Dier Makr
Dier Makr is arguably Tasmania's best wine bar and a hidden gem in Hobart. Housed in an inconspicuous alleyway, it serves as the perfect spot for fine wines and elegant snacks with a constantly changing menu that will keep you on your toes.
The Chef's Menu at Dier Makr is a standout in Hobart, that pairs creative dishes with excellent service. Each dish is prepared to perfection, plus the atmosphere of the restaurant also makes it a must try when staying in Hobart.

📍 Address: 123 Collins St, Hobart
Day 2: Sunday Morning in Hobart
Brunch at Dandy Lane
Whatever mood you're in when you wake up, there's something for that mood at Dandy Lane Cafe.
The food here runs from simple poached eggs on toast right through to huge Elvis waffles with banana, peanut brittle, bacon and strawberry coulis.
Dandy Lane also makes excellent coffee with the beans roasted and sourced locally by Villino.
Make sure you have a big brunch because you're going to have a big day out on the mountain later!

📍 Address: 10/138 Collins St, Hobart
Enjoy a Stroll Around Battery Point
The quiet residential neighborhood of Battery Point is one of Tasmania's most beautiful historic neighborhoods.
Hampden Road is the main strip of Battery Point, which houses some of Hobart's best cafes and gift shops. Battery Point is also a haven for antique collectibles.
Credit: @tasmanianarchitecture
You can easily spend part of an afternoon walking around and looking at all the classic Georgian cottages and beautifully manicured gardens.
If you need a post-lunch snack, check out the artisan Jackman & McRoss bakery for a croissant or scroll.
Day 2: Sunday Afternoon in Hobart
Explore Mount Wellington
This afternoon we're going to explore Mount Wellington. Instead of spending an entire day hiking, we'll take a shuttle bus directly to the summit and save the walking for once we're at the top!
Shuttle buses to Mount Wellington are regular, however it's a good idea to check the timetable beforehand to organise your day properly. A full timetable can be found at Mt Wellington Explorer.
Credit: Australian Caravan and Camping Adventures
For new travellers, Mount Wellington (also known as kunanyi in the local Aboriginal language) is a large mountain in Hobart. The summit provides breathtaking views of the Hobart city skyline, as well as glimpses into Tasmania's Wilderness World Heritage Area.
If you're a keen photographer, the landscape provides an unobstructed view of local landmarks such as Mount Field National Park and the greater Hobart region, including picturesque spots like Eaglehawk Neck and Port Arthur Historic Site. Locals recommend capturing the sunrise or sunset.
At the summit, you'll find barbecues and picnic facilities, perfect for relaxing in the warm Tasmanian sun. If you're in the mood for adventure, there's also hiking trails for you to explore, whether on foot or by mountain bike (the shuttle bus allows you to bring a bike onboard for an extra fee). Abseiling is another option too if you're up for it!
There are no entrance fees to the mountain, plus no opening or closing hours either. However we recommend making the summit trek during daylight hours while the shuttle bus is still operating!
Plan whether to complete a hike or simply snap some photos and once you've had enough, it's time to board the shuttle bus back for Hobart city.
Day 2: Sunday Dinner in Hobart
You've had an amazing couple of days exploring the very best of Hobart, but all good things must come to an end.

Finish with a bang and treat your tastebuds to any one of these 3 solid dinner options:
Fico
Fico is a restaurant worthy of all the hype. The dinner set menus are reasonably priced for all the wonderful, local food you get to try.
Take stress out of deciding what to choose and enjoy one of their beautifully crafted set-menus, made complete with drinks pairing.

📍 Address: 151A Macquarie St, Hobart
Urban Greek
Focusing on tradition and incorporating family recipes that have been passed down through generations, it's no doubt Urban Greek is Hobart's leading restaurant for Greek food.
As a modern take on classic Greek food, Urban Greek infuses locally sourced ingredients into their dishes for fresh seafood and lamb which can be found in the heart of Hobart.

📍 Address: 103 Murray St, Hobart
Credit: @hobartcafes
Room for a Pony
If you're after somewhere laid back and easy going for your last night in Hobart, Room for a Pony has you covered.
Located in North Hobart, Room For A Pony is an atmospheric venue that serves as a great place to relax. With decks outside for those warm Summer nights, this café bar-type establishment offers plenty of good vibes as well as impressive food (highlighting local produce).
Make sure you try their chocolate beetroot cake which tastes sensational – even though it doesn't sound all that tempting!

📍 Address: 338 Elizabeth St, North Hobart
Conclusion
We hope you enjoyed our recommendations and itinerary on how to spend a weekend in Hobart. Hopefully we've given you some good ideas for your next weekend in this awesome city.

If you're looking for more information about Hobart, check out some of our other articles below or on our blog.

Thank you for reading – happy travels!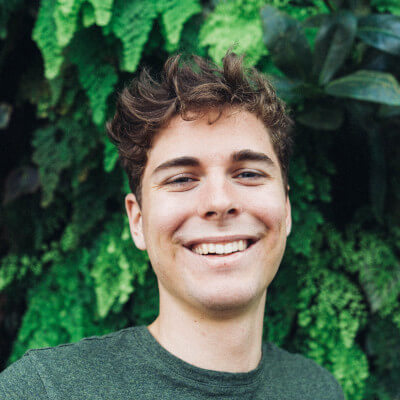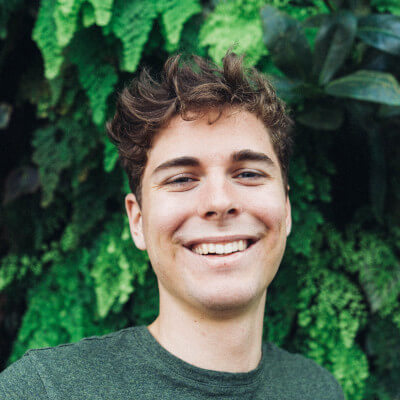 Sam Harding

Sam is a Hobart local who is studies journalism part time. He loves AFL and any excuse for a weekend road trip.
©2021 Tasmania Traveller · All Rights Reserved